IELTS-Speaking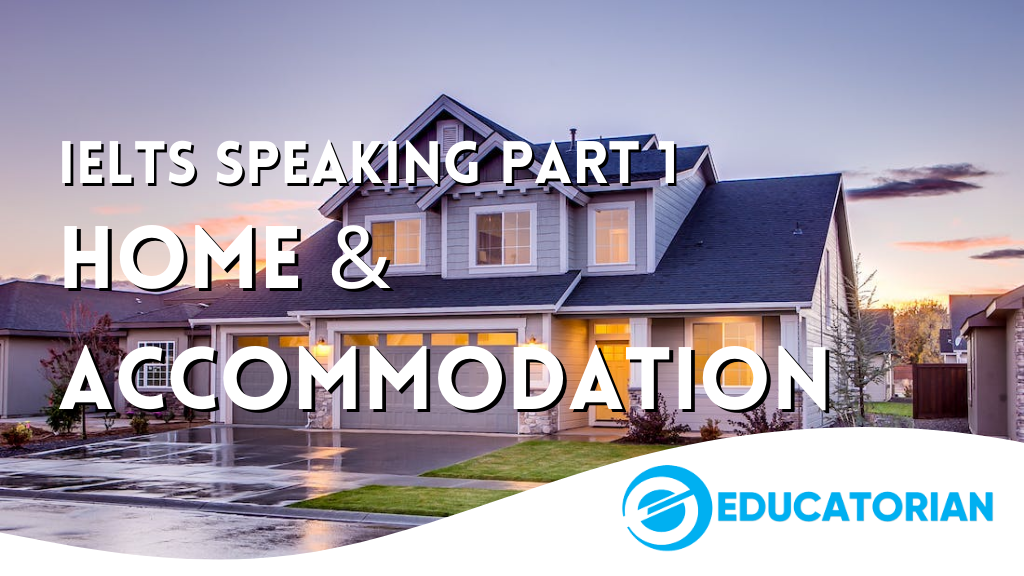 IELTS Speaking Part 1 – Home and Accommodation
IELTS Speaking Part 1 (Home and Accommodation)
Topic: Home and Accommodation
Difficulty: Easy
---
Do you live in a house or a flat?

I live in a flat. My family and I live there since I was six. The building has 30 floors and my parents and I live on the 24th
I live in an apartment, there are four families on this floor. The building is a 10th-story building and we live in the 7th
I am very fortunate to live in a house in the suburb. My parents bought this place back when I was a kid and now I inherit this place.

Can you describe the place where you live?

In our flat, we have two beds and a bath. (2 bedrooms and 1 bathroom). We have a small kitchen and a fairly cozy living room. We have a balcony so we can do air dry our laundry during summer.
Since there are four families on one floor, the space is very small but I still have a room of my own. We do share the same toilet as my parents. The kitchen is wide enough for two people to be there and a living room where can accept a couple of guesses, probably around the maximum of three quests including us.
We have three beds and two baths. One of the room is our home office where we can work with our laptop and the other two is for the bedroom. Our kitchen is big enough and we usually eat in the kitchen and we only use our dining room for a special occasions.

How long have you lived there?

My family and I moved there back when I was 11 because it is very close to my school. Before it took us around an hour to drive but now it is around 12 minutes by car. And since the place is nice, we don't have any plans to move in the near future.
Since my dad's job required him to come to his office all the time, he decided to move closer to his work, and that was ten years ago. It is a good thing that my school is very near his office. It is probably around 10 minutes on foot and the subway station is just a few blocks away from our apartment.
My family and I moved here when I was still in high school, although it is very far from my current school we decided to move because we don't want to pay rent anymore and it was a good neighborhood so we just decided to move immediately and after the school year, we decided to just transfer to a closer school.

Please describe the room you live in.

The room is not so big probably you can fit a small car, so I cannot put a lot of my stuff. Although I have a decent desk and computer with some cabinets for my clothes and some old stuff that I have. I have a window but it is facing another building so I never bother opening it. I do have my own AC and probably my room needs a paint job as the paint is starting to peel off.
I have the master bedroom so it is quite big than the other rooms, it is about six square meters, I have my own office and a queen size bed. I have my own entertainment system with 48 inches smart TV. I do put a small snack bar and best of all I have my own bathroom so I can actually live and not go out for days.
I have a small room, I have a single bed and a desk.
What part of your home do you like the most?

Although I like my room because it is mine, I do like the living room because it is very cozy and I could relax beside my room. My parents also spent a lot of money on good furniture and an entertainment system so I can invite friends and they are really having fun when they come here so our living room is the place that I like the most.
Although it might sound like a cliché, my room is the best place in my house, I consider this as a sanctuary sometimes a man cave, I spent a lot of money for my comfort, in fact, and I could live comfortably in my room alone.
Although I have my room and living room, as a food lover, I consider my kitchen to be the best place in my house. After work, I cook for the family and enjoy doing it, when I have friends over, they are on the kitchen top enjoying my cooking. I feel great and it releases my stress at work when I cook so I guess this is my favorite place in the house.
Who do you live with?

Currently, I live with my wife and kid. Our house is a kind of a two-family house, so we also live with my in-laws but they are in a separate room with different toilets. However, shared kitchen.
What room does your family spend most of the time in?

Since I work at home, I spend all of my days in this room. I worked for 12 to 16 hours a day and sleep here. Although this is my room, I think of it as an office and I am sleeping in my office.
What do you usually do in your flat?

Most of the time, just work, or if I have free time, we watch a local drama on Netflix in our living room. I also play video games in my room, if I am bored with the shows and I am done with all of my work.
What kinds of accommodation do you live in?

I really like to live in our capital city, Makati, and live in a penthouse. I saw this show on Netflix, where he lives in a penthouse in LA. Kinda a bit of a bachelor's pad.
Do you plan to live there for a long time?

Right now, I am very comfortable in my current place but I really hope, I could go back to my own home and hometown in the near future. However, I am accustomed to the people here and the lifestyle is very simple compared to my city where everyone is busy.
Do you prefer living in a house or a flat?

I live in both a house and an apartment, so I am confident to say that house is my preferred choice of place because there is nothing more important than privacy. Although there are a lot of cool things about living in an apartment, privacy is something that is lacking.
Are the transport facilities to your home very good?

No, you really have to own your vehicle or have to walk. The place is a rural area so you might wait for some cars passing by so you could ride or just walk.
What kind of house or flat do you want to live in in the future?

In the future, I would like to live in a house where I can have my own office separate from my bedroom. I would also like to have my own bathroom. Bungalow-type house with at least 3 to 4 beds and two and a half baths.
What's your favorite room in your apartment/house?

Although it might sound like a cliché, my room is the best place in my house, I consider this as a sanctuary sometimes a man cave, I spent a lot of money for my comfort, in fact, and I could live comfortably in my room alone.
What makes you feel pleasant in your home?

First, privacy and my things. I also feel good if the temperature is not that hot or cold.
What's the difference between where you are living now and where you have lived in the past?

In the past, I lived in a big house, I have my own toilet and I have a place for my office that is a bit far from my bed. I could live inside my room as it has enough space for a kitchen. But now I live in a smaller place and I have to go out of my room to access the toilet.

Do you think it is important to live in a comfortable environment?

Yes, because if you cannot get a comfortable place, it is hard for you to rest and with that, you might not be productive the next day and if that happens every day, your performance at work or studies will greatly be affected.
Check other collections here.
Check my personal website here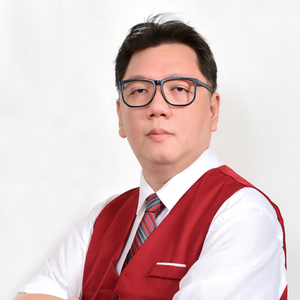 Ian Tanpiuco is an ESL and virtual assistant. With a decade of experience, he has become an expert in his field. Dedicated to helping others achieve their goals, Ian works tirelessly in the classroom or as a virtual assistant.